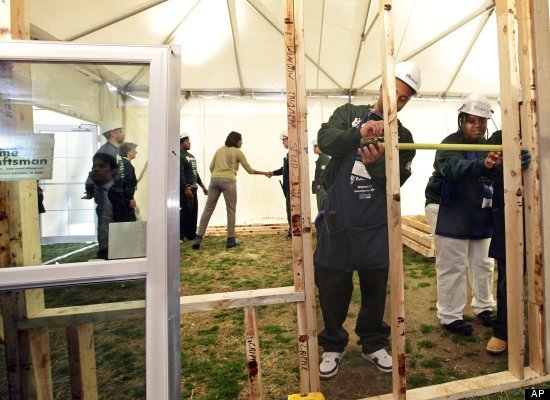 Since the launch of the Huffington Post's Impact section (as well as HuffPost DC) we sure have been reading HuffPo a bit more here at the DCAYA offices! HuffPo Impact traditionally covers issues like homelessness, volunteering, and philanthropy, but this week the bloggers chose also to feature a slideshow of organizations that help underserved young people. The slideshow featured a ranking of organizations from Philanthropedia, a website which rates non-profits for philanthropic donors.Philanthropedia offers up some great information about at-risk youth on the national level and the stats are certainly worth sharing with our devoted "Youth-Friendly DC" readers!
For instance: " In 2000, more than 4 million youth between the ages 16-24 were neither working nor in school and 25% are estimated to be parents."
Another great piece of information: "
Each year, more than 20,000 teens leave the foster-care system with little transitional support."
Lastly, according to Philanthropedia's research, the U.S. population of 16-24 year olds is expected to grow at an above-average rate over the next decade, which means the problems that we see with at-risk youth and young adults from this age group are likely to become even more wide spread if the federal government, along with states and localities do not take some concerted action.
According to Philanthropedia's website, their
focus on at-risk youth grew out of the belief that "few funders fund at-risk youth programs because many believe they can make a bigger impact funding children during the early childhood development stages." This is certainly something DCAYA and the direct service community experience here in DC when it comes to funding opportunities for youth, but being the optimistic youth advocates we are, DCAYA does not believe it has to be that way!
Two recent research reports highlight areas where both private philanthropy and public funding sources could positively affect the lives of at-risk, disconnected and disenfranchised young people right here in our own backyard. "Ripe for the Picking: Opportunities for Private Investment to Affect Disconnected Youth in Washington DC" and the recently released Brookings paper titled "Strengthening Career and Educational Pathways for DC Youth" offer up funding ideas, creative strategies and policy recommendations to alleviate the dismal situations that many of DC's young people face. While DCAYA and Brookings DO NOT rank programs operating here in the District, we do give some great examples of high quality programs that in addition to the list of national organizations Philanthropedia provides would be ideal targets for private investment.
Through targeted investment, the philanthropic and private funding community have a key window of opportunity to enhance outcomes for individual youth while also strengthening the social and economic health of the District in the long term. They also have a unique opportunity to blaze a trail when it comes to investing in youth and young adults. We certainly aren't saying that investments made in areas like early childhood are bad (far from!), but funders (be they private or public sources of funding) MUST include youth and young adults that have fallen through the cracks of previous funding endeavors if communities writ large are to have positive outcomes in both the short and long term.
On that note, we encourage YOU, our readership, to
peruse both the national AND the local research on effective programming and remember big philanthropy are not the only players in the game. Individual donations can go a long way in sustaining organizations, especially locally based community organizations who are not tied to a national funding mechanism. So chose wisely!
For more information on disconnected youth, educational pathways and youth workforce development here in the District contact DCAYA Policy Analyst Anne Abbott (anne@dc-aya.org).
For more information on homeless and unstably housed youth or the programs that serve this population here in the District please contact DCAYA Senior Policy Analyst Maggie Riden (maggie@dc-aya.org).